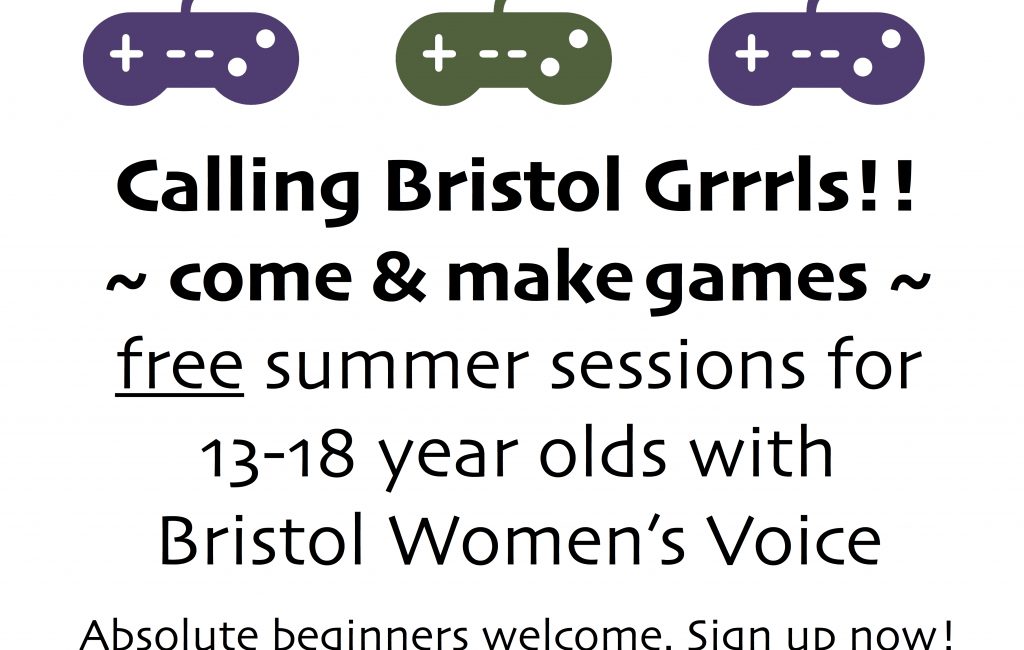 My summer this year is mostly about shepherding Suffragette Landmarks, a govt-funded project initiated by Bristol Women's Voice. It's a games-making project working with young women and girls aged 13-18 that has several aims:
raise awareness of histories of Bristol Suffragettes and explore their relevance today
use those Bristol Suffragette stories to inspire the young women and girls to design and build computer games
create opportunities for participants to find out more about careers in the games industry through meeting people working in the sector and visiting different creative industry spaces
create real world markers on the city landscape to draw public attention to both the games and associated stories
develop a cohort of young women in Bristol who have had a chance to experiment with making games and who could be game designers of the future
There will be three groups running concurrently over four weeks of summer, with an initial session open to all participants (at The Station on Tuesday 10th July, 10am-2pm.) This is a chance for historian Madge Dresser to introduce the Bristol Suffragettes stories, for us to all map out where they happened and begin to think about how we can use those to inspire some games.
The gamemaking workshops start on 16th July ~ all sessions are 10am-3pm
Mondays in Knowle West Media Centre 16/23/30 July & 6th August
Tuesdays at Docklands Youth Centre in St Pauls 17/24/31 July & 7th August
Wednesdays at The Vench in Lockleaze 18/25th July & 1/8th August
Here is the flyer/poster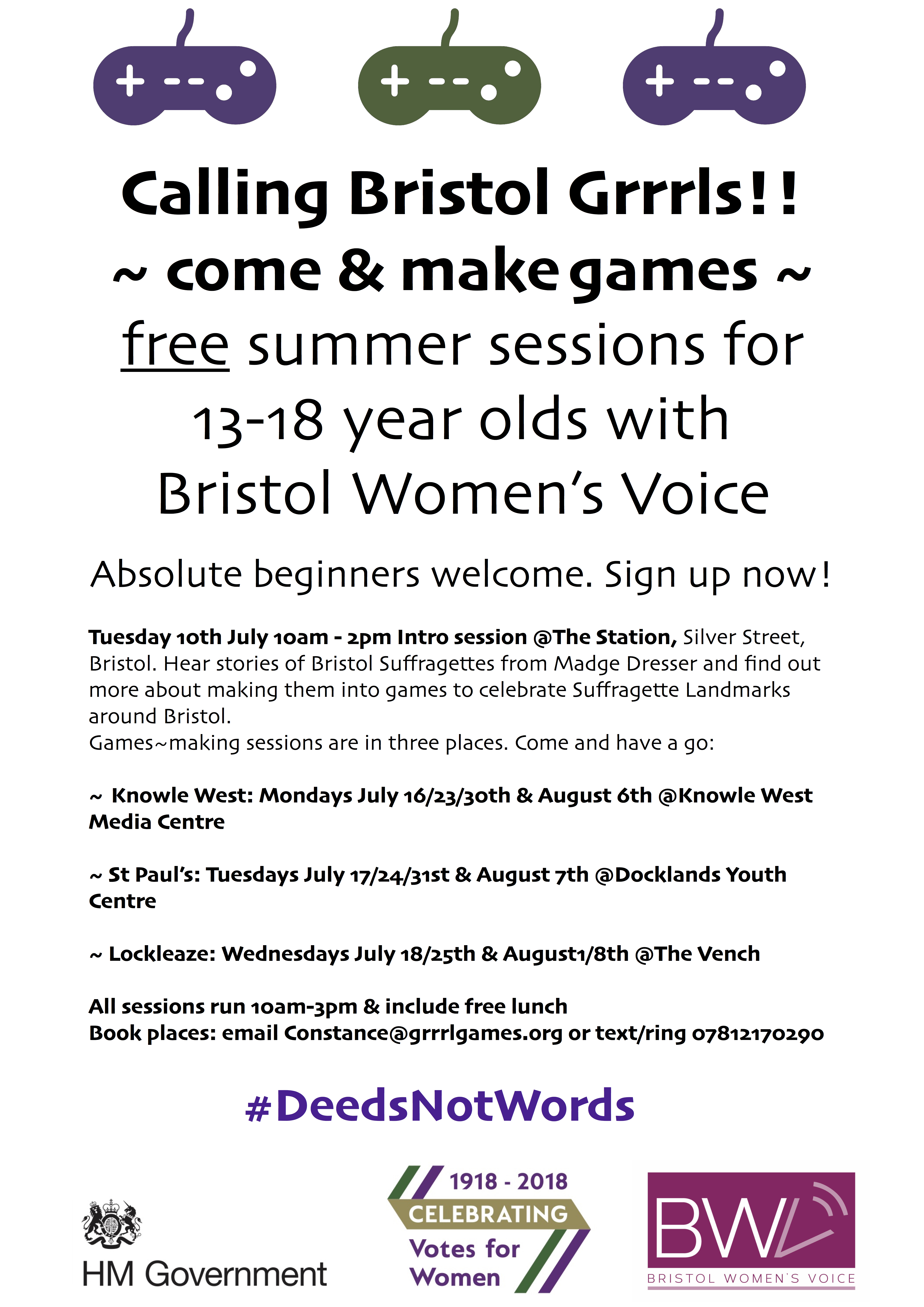 All sessions run 10am-3pm, with space for a dozen young participants. Get in touch if you know any 13-18 year old grrrls who would like to attend – they don't need any experience of making games, computer skills are a bonus but not necessary.
We are also looking for women in games to come and talk at one of the 12 sessions – whether you are new to working in games or well established, please sign up to come along and show what you do and what games you have made. I am drawing up a timetable of who can come in when, and can offer travel expenses/tiny stipend if you can talk to a group and inspire them with ideas of future careers.
There will be more Suffragette Landmarks activities in September/October, with a website launch and exhibition of the games and ideas at The Station and a couple of public talks in Bristol. It would also be great to find a way of keeping the work going after the funding has ended, maybe a monthly meetup for all the groups together, somewhere central? I'm working on it, ideas & offers welcome.
If you or your company wants to offer any ongoing support then get in touch – especially if you can offer visits to games companies or age-appropriate freebies!!
Get in touch: constance@grrrlgames.org