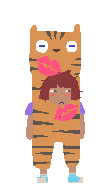 UPDATE ON THE UPDATE:
We went to EGX2019 and I pitched for and got enough development funds to build a three level pc/mac game with Claire & Harry. Harry also created some lovely concept art for even more levels that we would love to build so  I am now pitching for some serious money to make the game as big and beautiful as we can. The next step is to deal with a couple of bugs and get the demo working on Switch. There is a free download of level 1 on Itch and yep,
Kissy Kissy!
is on
crowdfunder
.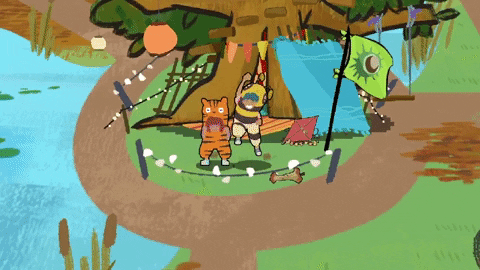 UPDATE:
Kissy Kissy! was selected for support from the UK Games Fund as part of their Pitch Development Programme. It's come a long way since the FuseJam and we have been working hard to get it pitch ready for EGX in October 2019. Kissy Kissy! is now a co-operative game for two players, with a Tiger and a Bee running around helping each other to build the blanket fort and hide from unwanted kisses from grandparents. We have cute character animations from Harry Sussams and commissioned music from Cooper Rose. There's more about the progress
HERE
~
Here's the original post about it:
Been brushing up Unity skills this weekend at the
FuseJam
gamesjam in Bristol. Every one played game generator bingo – two numbers gave two random words to inspire game design – ours were Comfort & Track, which after various amusing conversations turned into
Kissy Kissy
; help the little tiger baby avoid kisses from Grandparents by building a blanket and pillow fort to hide in with Teddy. It made sense to us…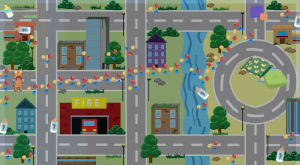 I worked with AJMurdoch & Harry Sussams, who are such talented illustrators they very quickly made a whole bunch of lovely visuals while I tried to keep up with the coding! It was great fun even though I am still such an inexpert coder and was confused until my brain hurt. Luckily we got help from Claire, Ash and Alex and managed to make a working version of our game that almost does what we want.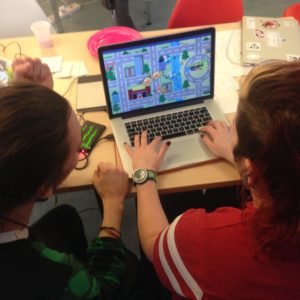 We need to add more sound effects, make milk-drinking give a burst of speed, and work out why the grandparents are getting into the blanketfort (argh) but it is great to have a first draft that we all enjoyed making and can build on. Here's a basic version on my Pretty Digital itch.io page.
Plans are afoot to do a bigger better version…
Big thanks to Claire Morley, Eriol Fox & Alex Birk for organising the FuseJam – look forward to the next one.